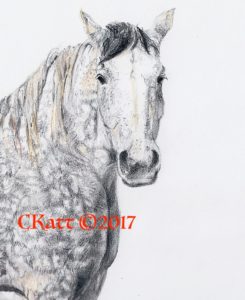 Samson was a "Great Horse" or a large draft horse – a dappled Percheron. It is a very small 5″X 7″ colored pencil portrait on Bristol paper. Bristol Paper has a smooth surface that makes getting the details of Samson's dappled color much easier.
I first met Samson when a friend and I took her daughter out to Windy Ridge Riding Stables to inquire about lessons. He was one of the few horses in the large coral area. He sauntered up to us like a friendly inspector as we were trying to get through a gate. He was enormous! My friend said, "Catherine, what do I do?" as she had her daughter in her arms.
"Be calm. He won't hurt you." Draft horses are generally pretty gentle with kids. And as time proved, in many later encounters, that he was a truly big, gentle guy.
This portrait was purchased by Mark Ward, the owner of the horse riding stable where I took riding lessons. He had Samson from a "baby". Sadly Samson passed away not long after I made this portrait.
Thanks for stopping by!